Drawing strength from the EU
Bulgaria is home to a population of almost 7 million people. With a GDP per capita of USD $11 730, Bulgaria is considered a developing country with an upper-middle-income economy.1
Most of its trade takes place with other EU member states, dealing in raw and refined precious metals. Its main export partner is Germany (valued at over €6 billion), followed by Romania and Italy.2 As of 2007, Bulgaria is officially a member of the European Union. Joining the EU has brought a number of benefits to Bulgaria's economy, most notably, access to a large and well-functioning single market. Other benefits include an increase in foreign direct investments and access to funding and assistance.3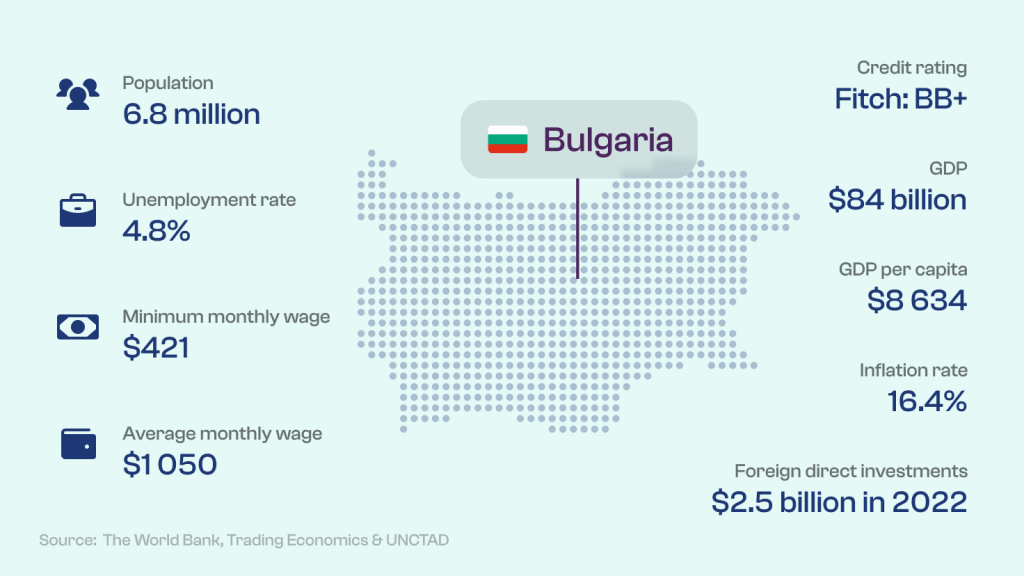 Naturally, Bulgaria was also impacted by the economic crisis that rocked the world in early 2022. Despite the instability and high inflation, Bulgaria's real GDP is forecasted to increase by 1.4% in 2023 and by 2.5% in 2024.4 These forecasted numbers are reflective of Bulgaria's potential for stability and flexibility in times of economic crises, and the country's vulnerability to external shocks.
Fintech: A booming sector in Bulgaria
One industry that has been positively impacted by Bulgaria's EU membership is the fintech sector. The country boasts a thriving startup ecosystem, a favorable regulatory environment, and a highly productive workforce, making it an ideal destination for fintech companies to establish their presence.5
A need for contactless solutions driven by the COVID-19 pandemic led to the rise of mobile banking, online payments, and digital wallets, causing a surge in fintech startups. By 2021, the total revenue earned by fintech reached a value of almost €1 billion. In the last five years, the fintech industry has seen an average growth rate of 17% in total assets owned.6
Digital payments have long dominated the financial sector. Nonetheless, alternative lending is quickly cementing its position as a valuable addition to the non-banking sector, accounting for 9% of overall fintech operating revenue in the country.7
A rapidly emerging loan portfolio
Currently, there are 177 non-banking financial institutions with a presence in Bulgaria. By the end of 2022, loans granted by alternative lending companies reached €2.2 billion, growing by over €300 million year-on-year. Growth is most apparent in the fast loans sector: In the last three years, lending companies from the sector reported a total profit of almost €600 million.8
In Bulgaria's alternative lending scene, a key player to watch on Mintos is CashCredit, with a well-established loan portfolio in Bulgaria– at €6 million.9
Lending activity in the alternative lending sector in Bulgaria has seen significant growth in recent years, with €8 million investments made in Notes and claims on Mintos in 2022 alone. With an increasing number of individuals and businesses looking for alternative sources of funding, the alternative lending market in Bulgaria has the potential to become a key contributor to the country's economy.
If you're interested in finding out more about how you can invest with Mintos, explore Bulgaria's leading lending companies.