We're stoked to announce our crowdfunding campaign is open for everyone. Early access has been a blast, and we already raised € 5.3 million from 4600 investors. We crushed our initial €1 million raise target in less than 15 minutes. Thank you!
---
We invite you to join the #mintosiscrowdfunding webinar with Martins Sulte, CEO and Co-Founder of Mintos, this time with the guest host Pepe Borrell, VP of International at Crowdcube. See you on Thursday, 19 November at 12:00 CET.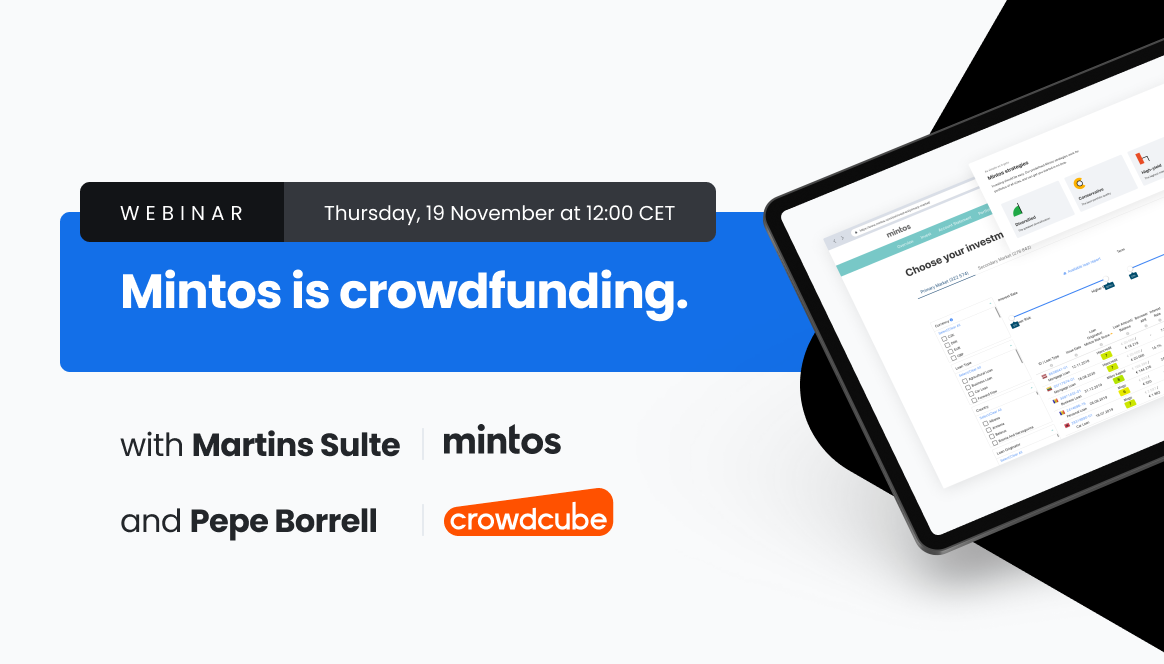 Set reminder on Youtube, https://youtu.be/NzlIpsD-US0
Ask a question, https://app.sli.do/event/e5xfwdrx
Find us on Crowdcube: crowdcube.com/mintos
---
This is a huge endorsement of our vision. If you want to take this opportunity to own part of Mintos, head over to Crowdcube and check out the details.
As there continues to be extraordinary interest, we're accepting further investments to give more of you a chance to join in. We decided to crowdfund with the goal of allowing our Mintos community to become shareholders, and we don't want to stop here. 
We'd love you to be part of the journey!
Investments of this nature put your capital at risk. Please invest responsibly.
---
Why is Mintos crowdfunding?
Our crowdfunding campaign is part of a wider fundraising round with venture capital firms in which we are raising additional capital that will allow us to accelerate our growth and develop new products in a regulated environment. Our investor community has played an important role in our success so far, and to say thank you, we want to share this opportunity with our investors.
Why invest in Mintos?
We believe Mintos, sitting at the intersection of two strong market trends, is in a great position to meet the increasing demand for alternative investments from retail investors, and to capitalize on the rise of non-bank lending.
Retail investors in the EU alone hold investments worth €7 trillion1. As retail investors are looking for alternative investments, the global crowdlending market is expected to grow at a CAGR of 29.7%, from €57 billion in 2019 to €472 billion by 2027.2 On the other hand, global non-bank lending – in other words the loan supply potentially available for investing – already is more than €3 trillion.3
What is Mintos going to do with funding raised in this round?
The funding raised in this round, including crowdfunding and venture capital, will be used to develop new products and grow our business.
How we aim to grow
Secure a regulated environment
Acquire both Investment Firm and Electronic Money Institution licenses which would allow us to do business across Europe on a passporting basis.
Grow our investor base
Grow our presence in current markets, and expand to new markets enabled by license passporting.
Expand loans offering
Broaden investment opportunities by including loans with lower risk and lower return levels.
Launch new products
Add other investment products (such as ETFs) and provide additional financial services (like Mintos IBAN account and Mintos debit card).
---
1 ESMA
2 Allied Market Research, converted from USD
3 FSB, converted from USD