Following our initial announcement of GoCredit launching on Mintos on 13 August 2021, we're happy to announce Mintos has finalized the Master Trust structure with the lending company. 
GoCredit is now the second company on Mintos (together with Alivio Capital) to have such a unique security. As previously announced, the initial security already consisted of a direct loan assignment and a pledge over loans listed on Mintos, established in favor of Mintos investors. With the current improvement, there is also a third-party trust provider securing the cash flows, and Mintos is the first beneficiary of the repayments coming from particular loan agreements.
So, for example, in the case of GoCredit default, any borrower repayments would go directly to Mintos investors, and only after this would any remaining amounts go to the lending company itself.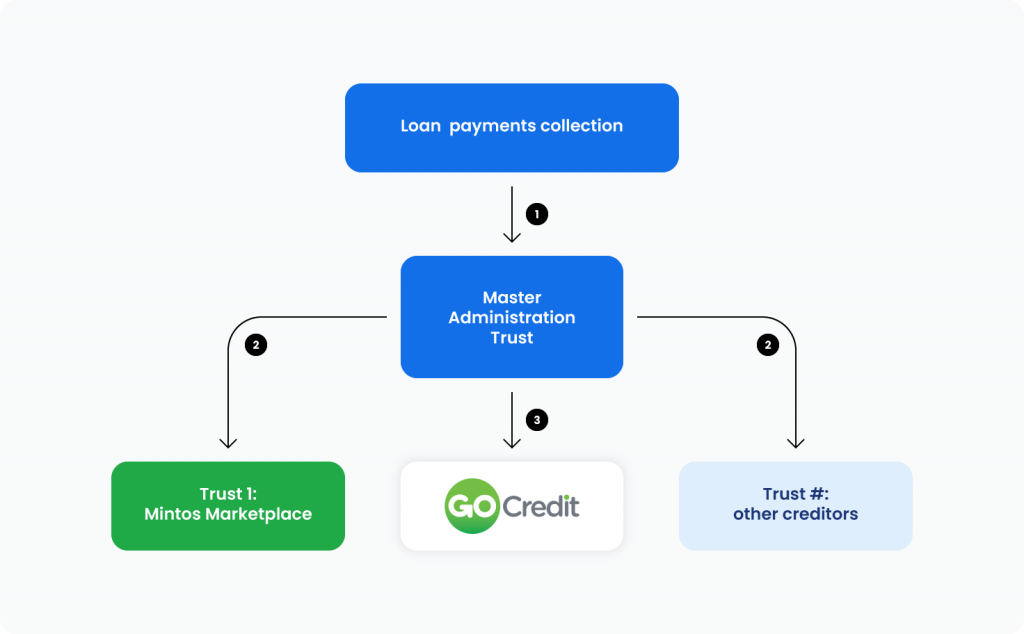 With this structure security upgrade, the cooperation structure subscore has been improved to 8, resulting in an overall Mintos Risk Score improvement to 7 for GoCredit. As a result, investors can now invest in GoCredit loans not only through the Diversified strategy, but also the Conservative strategy. If you want to invest in these loans with a custom automated strategy, please make sure to adjust your strategy settings. 
GoCredit was founded in 2011 and is currently employing 200 people. Until now, the company has issued more than 26 000 payroll loans and more than 9 000 direct debit loans.
Direct debit loans are personal loans that are automatically deducted once the borrowers receive a salary or pension in their bank accounts. Payroll loans are deducted by the employer (i.e. government agency) before the borrowers receive their net income effectively removing the risk of the borrower's willingness to pay.
The Mintos Risk Score for loans issued by GoCredit is 7 (updated from 6), with the subscores of 6 for loan portfolio performance, 6 for loan servicer efficiency, 7 for buyback strength, and 8 (updated from 6) for cooperation structure.