We're excited to announce the launch of Alivio Capital on Mintos – one of the largest healthcare lending companies in Mexico. Founded in 2009, it was the first healthcare lending company in Mexico focusing on healthcare needs not covered by the umbrella of health insurance – not only for medical emergencies but also for elective medical procedures to improve quality of life.
Alivio Capital stands out in the healthcare lending market because of its 4-minute FICO score check. With 9 500 active customers nationwide and 24/7 service availability, the company has originated more than 95 000 healthcare-related loans (equivalent to MXN 975 million / € 40 million) since its founding. Its current portfolio is around € 9 million, with borrowers comprising 54% women and 46% men. In addition, Alivio Capital has an average past-due rate (by more than 60 days) of only 2% – a metric that's been continually improving since 2017, even throughout the pandemic period.
Alivio Capital makes same-week payments directly to healthcare providers on behalf of the borrower. Because of this, it has close to zero fraud risk, as borrowers do not receive any funds directly and therefore have no way to misappropriate them.
Occupying a prominent position in Mexico's rapidly growing alternative lending market, Alivio Capital employs 95 people distributed across a head office in Monterrey, a sales team in Mexico City, and current points of sale in 5 renowned private hospitals.

Alivio Capital during the Covid-19 pandemic
Long before the pandemic, Alivio Capital's leadership team committed to improving the quality of its loan portfolio and increasing the number of loan originations – so by the time the pandemic arrived, there were already sound strategies in place. These strategies significantly reduced the effects of the pandemic, resulting in a slight decrease in growth and no decline in income over the past year.

Alivio Capital loans on Mintos
On Mintos, Alivio Capital offers investments in healthcare loans and repeating customer loans (for other purposes). Loans that exceed MXN 70 000 are secured with a car as collateral to further mitigate risk. In this instance, if the borrower fails to make repayments, Alivio Capital owns the car and can sell it to cover any unpaid amounts. Therefore, it's no longer a personal loan but a loan with significant collateral security. Because of this, larger loans from Alivio Capital are listed on Mintos under the car loan type, while the smaller loans are listed as unsecured personal loans.
| | |
| --- | --- |
| Annual interest rates | Up to 11% EUR |
| Average APR (Annual Percentage Rate) | 51% |
| Average loan amount | € 1 500 |
| Non-performing loans ratio (PAR 60) | 2% |
| Average loan term | 19 months |
| Skin in the game | 10% |
| Mintos Risk Score | 7 |
| Buyback obligation | Yes |
| Interest on delayed payments | No |
The Mintos Risk Score is 7 for loans issued by Alivio Capital, with subscores of 8 for loan portfolio performance, 6 for loan servicer efficiency, 6 for buyback strength, and 7 for cooperation structure.
Alivio evaluates the creditworthiness of its borrowers in 2 steps. Firstly, its algorithm generates an automatic risk score in 4 minutes (FICO Score*), plus a report from the Mexican Credit Bureau detailing the quality of the borrower's credit history. Data is then confirmed with references and ID, proof of income, and address is validated, which takes around 15 to 40 minutes. The speed of this process makes Alivio Capital a popular choice for the borrowers of healthcare loans.

Alivio Capital brings security on Mintos to the next level
Alivio Capital will establish the safest cooperation structure score in Mintos' history so far. Firstly, the security already consists of a direct loan assignment complemented by an extra layer of pledge over loans listed on Mintos, established in favor of Mintos investors. Then notably, there will also be a third-party trust provider securing the cashflows, and Mintos investors will be the first beneficiaries of the repayments coming from particular loan agreements. So, for example, in the case of Alivio Capital default, any borrower repayments would go directly to investors on Mintos, then any remaining amounts would go to the lending company itself.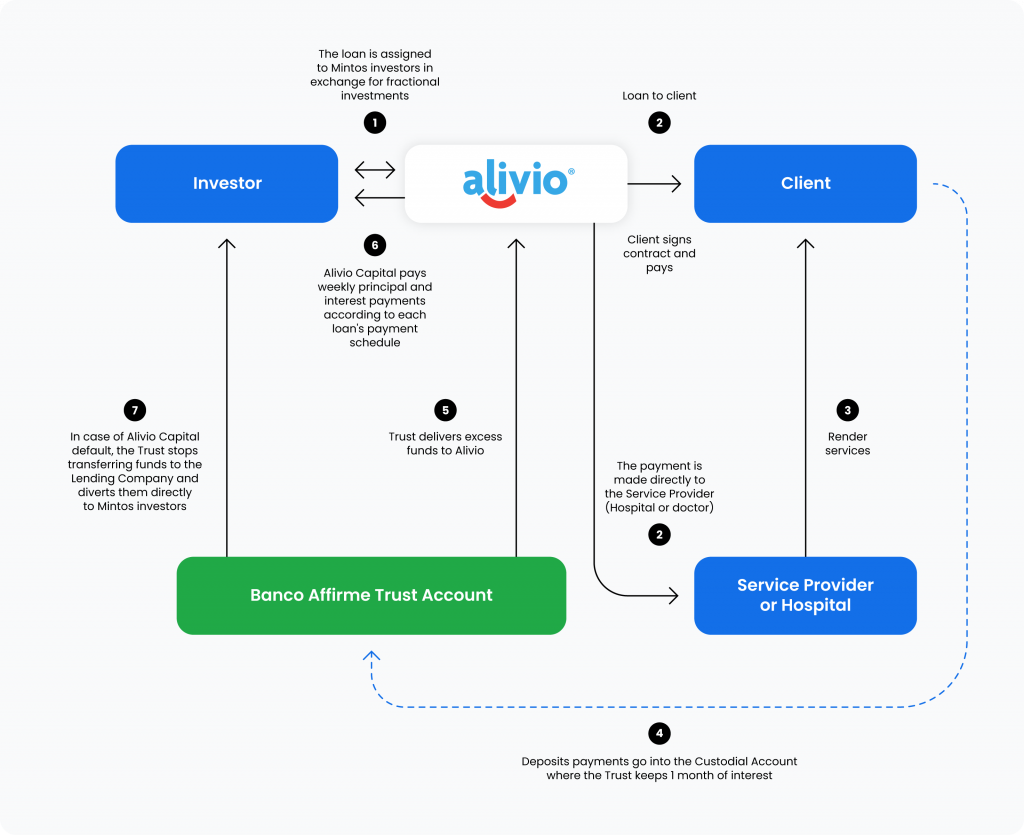 Comment from Alivio Capital's CEO
"Alivio is looking to fund sustainable growth. During several consecutive quarters, Alivio's performance has been outstanding in several key indicators. The company is improving the way it's reaching the market and the speed of origination. This all translates to a need for more funds to be placed in the market, and partnering with Mintos, a well-known and reputable firm, is an excellent means to get them." – Patricio Villarreal, CEO of Alivio Capital.
Patricio Villarreal, CEO of Alivio Capital, is part of the Instituto Mexicano de Ejecutivos de Finanzas (Mexican Institute of Finance Executives). The Risk Director and Collections Director come from GE Capital and Coppel, two of Mexico's largest financing companies, which helped Alivio Capital to implement its origination and collection processes.

How to invest in Alivio Capital healthcare loans
Mintos has added Alivio Capital's secured and unsecured healthcare loans and repeating customer loans to the Diversified and Conservative strategies. If you want to invest in these loans with a custom automated strategy, make sure to adjust your strategy settings. If you're investing manually, you can filter the loans on the Primary Market.