The 2020 pandemic produced, according to most experts, the deepest global recession since the Second World War.  With so many people losing jobs and relying on government unemployment benefits, plus governments stepping in with loan repayment deferral programs, the alternative lending industry was put up to a serious test. 
The crisis that began last spring has undoubtedly accelerated the demise of some less-established crowdlending platforms and forced the bigger ones to become more resilient. Unfortunately, many investors across all platforms were affected, with some of their investments being either lost or still at risk. 
Now that the situation in the crowdlending sector is beginning to stabilize, we'd like to thank the investors on Mintos for their feedback, trust, and understanding while we were navigating the marketplace through the various challenges during the previous year.
To recap, let's look back at the 2020 numbers and highlights.
Marketplace performance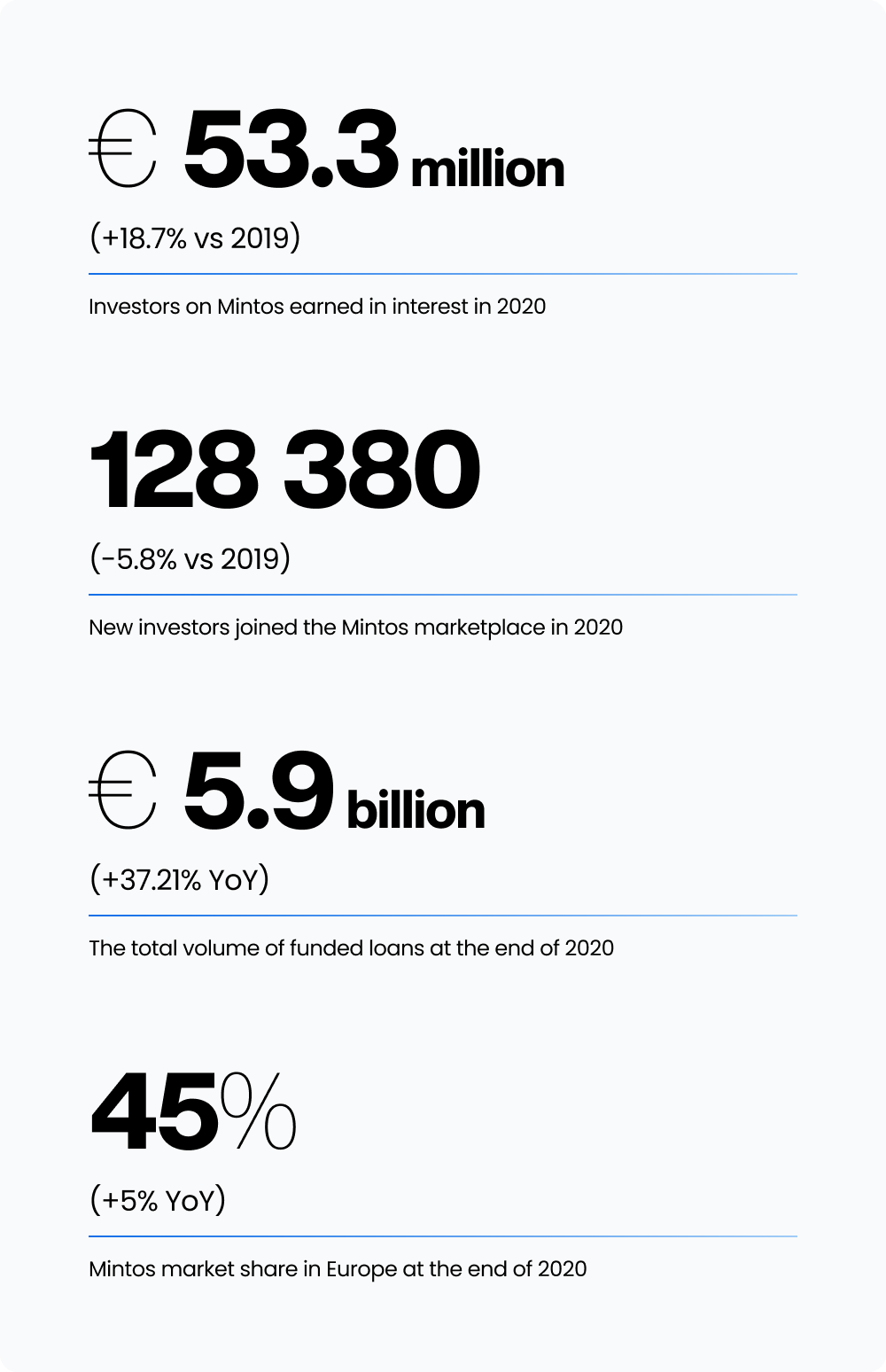 Even in a relatively challenging environment, investors on Mintos earned €53.3 million in interest (18.7% more than 2019), and 128 380 new investors joined the marketplace (5.8% less than 2019).
The total volume of funded loans on Mintos reached €5.9 billion (+37.21% YoY) and Mintos remained the leading marketplace for investing in loans with a 45% market share in Europe.
Suspensions and recoveries
During 2020, 14 lending companies were suspended or defaulted, putting €117.1 million of investors' invested principal at risk, additionally to €16 million that was put at risk before 2020.
By 31 December 2020, Mintos had in total recovered €40.4 million (including principal and interest) while €94.4 million of principal still remains at risk. Out of all suspended or defaulted lending companies, 2 have already repaid investors' funds in full. 
We continue to inform investors about the progress in our monthly recovery updates and will host another AMA session about recoveries at the end of this January.
Marketplace development
While the recovery of investors' funds became the main focus area for Mintos, we also managed to upgrade our investors' user-experience by developing the Mintos mobile app and introducing the new Mintos strategies. 
We also rebuilt our risk-grading model to help investors make better-informed decisions when investing in a particular loan on Mintos, and we've also been working to implement the changes necessary for becoming a regulated marketplace.
Endorsement from the community
In 2020, despite the impact the pandemic caused, Mintos received AltFi People's Choice Award for the fifth year in a row, and also the Fintech Technological Solution of the Year award in Poland. 
But the most important endorsement of Mintos's vision has undoubtedly come from our Mintos crowdfunding campaign, with over 7 000 investors joining us now as shareholders by collectively investing €7.2 million in our business.
Outlook for the future
2020 was a serious test of crisis handling skills for the whole crowdlending industry, however, we strongly believe that the platforms coming through it successfully will become operationally stronger and will be better positioned to further grow and deliver attractive returns to their investors. 
While our long-term goal of bringing attractive risk-adjusted returns to our investors remains the same, for 2021, we have additionally set the following as priorities:
Recovery of investors' funds
Mintos becoming a regulated marketplace
The introduction of new products and services
We also plan to offer more educational resources to help less experienced investors improve their knowledge when it comes to investing in loans. 
Regarding changes in the crowdlending industry, Mintos CEO Martins Sulte, recently talked about the following trends:
There will be fewer platforms, but these will be more-established and resilient
Investors will look to invest in loans with lower risk and returns
Investors will be building even more diversified portfolios
With additional funds raised in the crowdfunding campaign, we feel confident that 2021 will bring many new updates and investment opportunities for investors on Mintos. 
We wish you high returns, overall success, and superb health!