Welcome to Mintos Insight, a new monthly overview to keep you up to date with what's been happening on Mintos, including market commentary from our experts, recent investor activity, and educational topics.
Europe's alternative finance sector leveled up this year as loan-based investing reached important regulatory milestones
Mintos moved to the classic regulatory framework of investment brokerage as we work towards becoming a multi-asset investment platform
Mintos' new financial instruments Notes will offer investors the same level of protection as any other security offered by investment firms of mainstream investments
Working with the new set-up of Notes will bring further investment opportunities from bigger lending companies – providing investors with more options for diversification
Last month, investors on Mintos earned €3 890 732 in interest at an average rate of 9.73%

The average net return (YTD 2021) is 9.87%, and in November, the median portfolio value (of outstanding investments) across investors was €371
Loan-based investing levels-up
This year has been significant for Europe's alternative finance sector, as its subsectors have continued to evolve. Crowdfunding, for example, which forms an integral part of the alternative finance sector, "has reached a long-awaited milestone with the implementation of the new Crowdfunding Service Provider Regulation. Until this year, the sector lacked any kind of regulatory framework, especially one that could be scaled across borders. For some countries like Latvia, this was the first time a regulatory framework for crowdfunding was introduced. Although there are criticisms around its implementation in some member states, having a regulatory framework that allows crowdfunding platforms to scale across borders is a breakthrough," explains Inese Lazdovska, Head of Legal at Mintos.
The Crowdfunding Service Provider Regulation initiated considerable change across the industry, with many platforms becoming regulated or starting work towards regulation. An EU-wide framework not only adds sophistication to the loans asset class but it helps in setting the standard of investor protection for crowdfunding investments.
As the largest platform for loan-based investments in Continental Europe, Mintos moved to the classic regulatory framework – investment brokerage. We chose this path knowing that Mintos will soon become a multi-asset investment platform that will require a framework that covers multiple asset classes.
Furthermore, regulatory oversight enhances the security, stability, and credibility of Mintos – all of which are considered significant benefits based on investor feedback.
Now that it's regulated, Mintos is transitioning from loan investments by way of claim rights to the financial instruments Notes, which are loan-backed securities. Inese Lazdovska explains that "structuring investments in loans as securities and offering them to investors under the MIFID II framework brings loans into the same playing field of publicly traded stocks, bonds, and ETFs. Although investors can't trade Notes on a regulated market, the regulatory framework means investors can enjoy the same protections with loan-based investments as they would with any other security through a licensed investment firm. So for investors, Notes mean extra protection, and for the loans asset class, it means playing by the same rules as other asset classes such as stocks and bonds."
Martins Valters further highlights that through Notes, "Mintos is aligning with a time-proven, industry-accepted structure, which will allow us to make loan-based investments more mainstream. For example, the new set-up should help attract loan-based investment opportunities from much larger lending companies that chose not to work with the previous set-up of loan assignments. So investors can look forward to more diversification and investment opportunities with better risk scores, including loans with more conservative risk-return profiles."
Mintos activity during November 2021
In November, there were a total of 752 965 loan-based investments made by investors equivalent to €173 832 900, and investors on Mintos earned €3 890 732 in interest at an average rate of 9.73%. The top 3 markets for loan-based investments were the Russian Federation, Spain, and Latvia.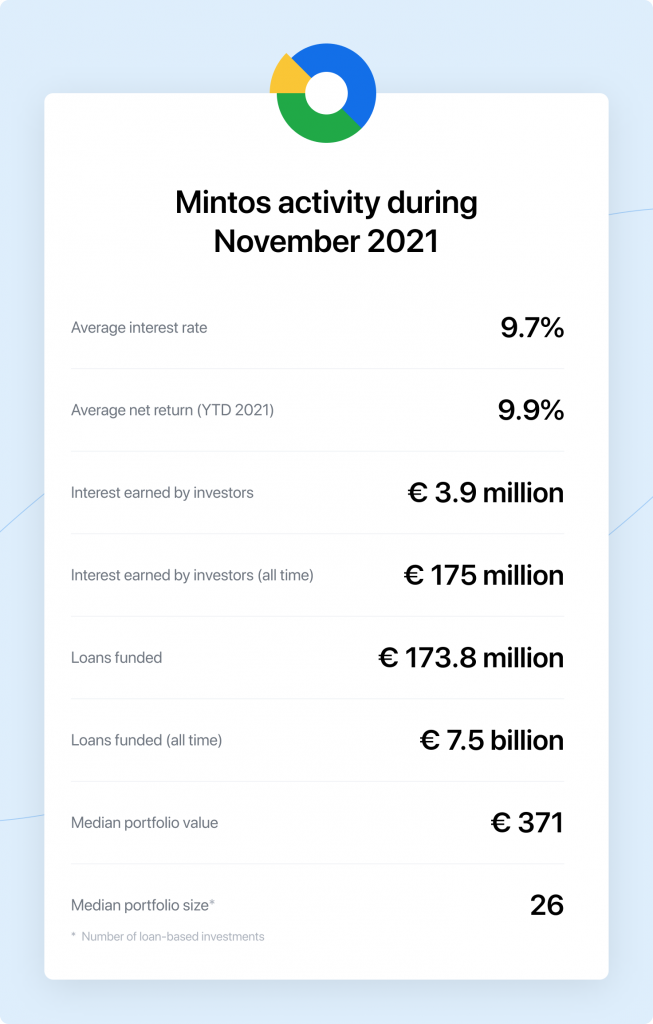 According to Janis Pranevics, Head of Partnerships at Mintos, the number of investors continued to grow in November, with over 10 500 investors joining the platform. On the loans side, fewer loans were funded in November (€ 173.8 million compared to € 196.5 million in October), mostly driven by the repurchasing of loans stemming from the latest bond issuances of some lending companies. This, however, has opened up the opportunity for a fresh loan supply to be brought onto Mintos.
Personal finance: Having investment goals means you're more likely to hold onto successful investments¹
Research shows that regardless of experience, investors tend to sell successful investments while holding on to losing ones1. However, investors that follow a goals-based investing approach are more likely to hold onto successful investments1.
If you'd like to learn more about setting investment goals and implementing a goals-based investing approach, you can learn more in our article.
App-grade your investments on Mintos
For an even easier investing experience, download the Mintos mobile app so you can create Mintos strategies and track your portfolio on the go!
Download it on the App Store or get it on Google Play.
This is a marketing communication and in no way should be viewed as investment research, advice, or recommendation to invest. There is no guarantee to get back the invested amount. Past performance of financial instruments does not guarantee future returns. Investing in financial instruments involves risk; before investing, consider your knowledge, experience, financial situation, and investment objectives.
Barber, B. M., & Odean, T., (2011). The Behavior of Individual Investors.