Welcome to Mintos Insight, our monthly publication that provides an overview of what's been happening on Mintos, including commentary from our experts, recent investor activity, educational topics, and more!  
Make sure you receive the Mintos Insight each month by signing up for our newsletter.
A big priority for Mintos this year will be finalizing the transition to the financial instruments Notes

2022 will also mark Mintos' expansion into a new product offering: investing in ETFs

Loan supply in December on Mintos increased compared to November due to an increase in borrower demand over the holiday season

The demand for Forward Flow on Mintos also increased over December 

Last month, investors on Mintos earned over €3.6 million in interest at an average rate of 9.49%

The average net return was 10.21%, and the median portfolio value across investors was €392
New year, enhanced investment opportunities
This year we'll be putting our new projects to practice. This means new markets, knowledge, and people coming together to create even more value for investors.
According to Marcis Gogis, Head of Product at Mintos, "a major priority for 2022 is completing the transition to Notes so investors can invest in loans in a fully regulated environment and benefit from increased protection under the MiFID regulatory framework."
Martins Sulte, Co-founder and CEO of Mintos, further expands that "once launched, Notes will bring loans in line with mainstream retail investing – something that's revolutionary within the loans asset class. We're looking forward to seeing how loan-based investments perform this year as they continue to be an excellent addition to any investment portfolio."
In parallel, we're working on a project that will give investors an option to diversify their portfolios across different asset classes within the unique Mintos environment. Marcis confirms that the first product expansion this year will be investing in ETFs. "We've validated the concept with many investors, including feedback from a beta test group that actively participated in surveys and prototype usability tests. During this exercise, we identified a lot of valuable insights on how to make investing in ETFs more user-friendly so we're excited to bring this offering to our investors."
According to Martins, the introduction of new product offerings such as ETFs is all in "our pursuit to building a multi-asset investment platform for retail investors wanting to build long-term wealth."
Marcis also mentions improvements are underway for our existing automated investing tools such as the Mintos and Custom automated strategies. "We have a backlog of several improvements that we'll be working on this year, plus we've received a lot of valuable feedback from our customers on how we can further improve the overall investing experience in 2022. We'd like to give a big thank you to investors on Mintos for being with us and sharing their feedback. Together we're making a better investing experience for everyone!"
Mintos Activity: December 2021
In December, a total of 746,429 loans were funded equivalent to €158.7 million, and investors on Mintos earned over €3.6 million in interest at an average rate of 9.49%. The top 3 markets for investments in loans were the Russian Federation, Spain, and Kazakhstan.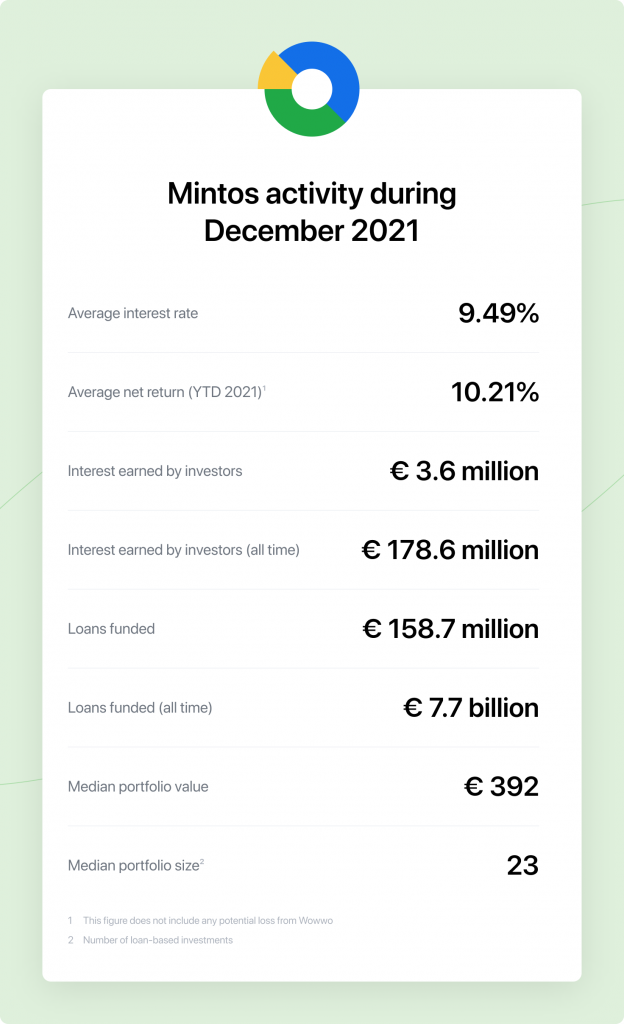 Peteris Mikelsons, Account Management Team Lead at Mintos, highlighted that the overall loan supply in December was larger than in November. "A main reason for this is the holiday season when lending companies issue more loans due to increased borrower demand. This, in turn, leads to a more significant need for funding. During this period, average interest rates rose, and loans available for investment grew to €50 million, most of which were in the Euro currency. 
In addition, we're seeing more interest from both investors and lending companies in Forward Flow on the Mintos platform. Forward Flow means lending companies get pre-commitment from investors to fund loans for a certain period. In return, they offer investors higher interest rates compared to re-investing via Mintos strategies. Forward Flow can be an excellent way for investors to earn enhanced returns."
The Mintos 2021 Year in Review is here! Take a look back on the achievements of last year, the performance of the broader investment market, and, importantly, the progress with funds in recovery to date.
Have you set your 2022 investment goals?
This week marked the launch of the Mintos Recap 2021, an exclusive addition to our app that gives investors a summary of interesting facts and stats about their investment journeys on Mintos last year. It's a great way for investors to see their investing progress and set goals for 2022. To check out your Mintos Recap 2021, head to the Mintos app. If you don't already have it, you can download the app on the App Store or get it on Google Play.
Did you know? 
Goals have an energizing role in life, and by setting investment goals, you can positively impact the outcome of your investments. Plus, there are over 500 studies that show the more specific a goal, the better the outcome1. This is because specific goals make you focus on the bigger picture of your investment strategy and help you hold on to high-performing investments. So, why not start 2022 with some goal-setting! 
This is a marketing communication and in no way should be viewed as investment research, advice, or recommendation to invest. There is no guarantee to get back the invested amount. Past performance of financial instruments does not guarantee future returns. Investing in financial instruments involves risk; before investing, consider your knowledge, experience, financial situation, and investment objectives.
Seijts, G. H., G. P. Latham, K. Tasa, B. W. Latham, and M. Journal (2011). Goal Setting and Goal Orientation: An Integration of Two Different Yet Related Literatures. Academy of Management Journal 47 (2), 227–239.