Welcome to Mintos Insight, our monthly publication that summarizes what's been happening on Mintos, including broader market commentary, educational topics, and more!
Make sure you receive the Mintos Insight monthly by signing up for our newsletter.
 Key insights
Energy prices, inflation, and interest rates continued to dominate the global investment market last month
The Eurozone reached historic inflation levels driven mainly by a significant increase in energy costs
Stocks and bonds had a rollercoaster month as highly anticipated inflation statistics created pricing swings
On Mintos, investment volumes remained stable, with an average interest rate of 14.2% for EUR-denominated Notes
August was a rollercoaster of a month as energy prices, inflation, and interest rates continued to grip economies worldwide. To give you some insight into how these factors are altering the investment market, we highlighted some key themes of last month.
Inflation: Investors search for signs of recovery
Inflation statistics were at the forefront of the investment market as traders and investors searched for certainty around further interest rate increases. The annual inflation estimate in the Eurozone came in at a staggering 9.1%1 at the end of August, driven mainly by the unprecedented growth in energy prices. EU natural gas reached a record pricing level of over €340/MWh2 in the last week of August (up from €70/MWh2 at the start of the year). However, it softened again following the EU's announcement of emergency measures to restrict energy prices from surging further.
Stocks: Uncertainty prevails
At the beginning of August, stock values started flat but began to build mainly due to tech indices such as the Nasdaq Composite experiencing significant gains. Then when inflation statistics in the US for July came in better than expected, and the volatility index (VIX) fell for the first time since June, stocks began to rally. However, this was short-lived, as not long after, the Federal Reserve made it abundantly clear that further interest rate hikes were on the way (to keep slowing inflation). As a result, the S&P 500 index dropped, with the effects flowing through to STOXX Europe 600 index.
In the last week of August, global stocks started to recover slightly. But once policymakers from the US and European Central Bank (ECB) confirmed their commitment to fighting inflation in a central banking summit, indexes slumped again. Due to ongoing uncertainty around future interest rate increases (among other factors), FTSE Russell's All-World stock index showed negative growth in August of -1% (in EUR)3.
Year-to-date returns for the S&P 500 are now at -15.5%4 (in USD) and -11.9%5 (in EUR) for the STOXX Europe 600.
Bonds: Liquidity struggles
Globally, bonds showed a similar trend to stocks last month. After a steady start to the month, some bonds rallied when inflation statistics in the US came in lower than expected for July. But bond yields quickly increased again, and values declined after global leaders reaffirmed their commitment to fighting inflation. In the UK and Europe, heightened uncertainty around interest rate hikes and lower trading volumes (because of summer vacations) have affected the liquidity of bond markets, according to the Financial Times.
Germany's 10 Year Government bond yield increased from around 0.8% at the start of the month to 1.5% by the end of the month6. Germany's 2 Year Government bond yield, which is closely linked to inflation and interest rates, went from 0.3% to almost 1.2%7 by the end of August – a monthly increase not seen for decades.
Investments on Mintos: Steady growth continues
On Mintos, the interest rate for EUR-denominated Notes Mintos stood at an average of 14.2% in August. Loan supply (around €20-30 million weekly) and loans available for investment (about €100m) remained stable throughout the month. According to Peteris Mikelsons, Head of Partnerships at Mintos, "average weekly investments increased from €9 million in July to €11 million in August. We believe this growth is linked to growing demand and our (almost) full transition of lending companies to the new Notes setup."
Mintos Activity: August 2022
In August, around 285 000 loans were funded, equivalent to €52.9 million, and investors on Mintos earned around €3 million in interest at an average rate of 12%. The top 3 markets for investments in loans were: Latvia, Kazakhstan, and Spain.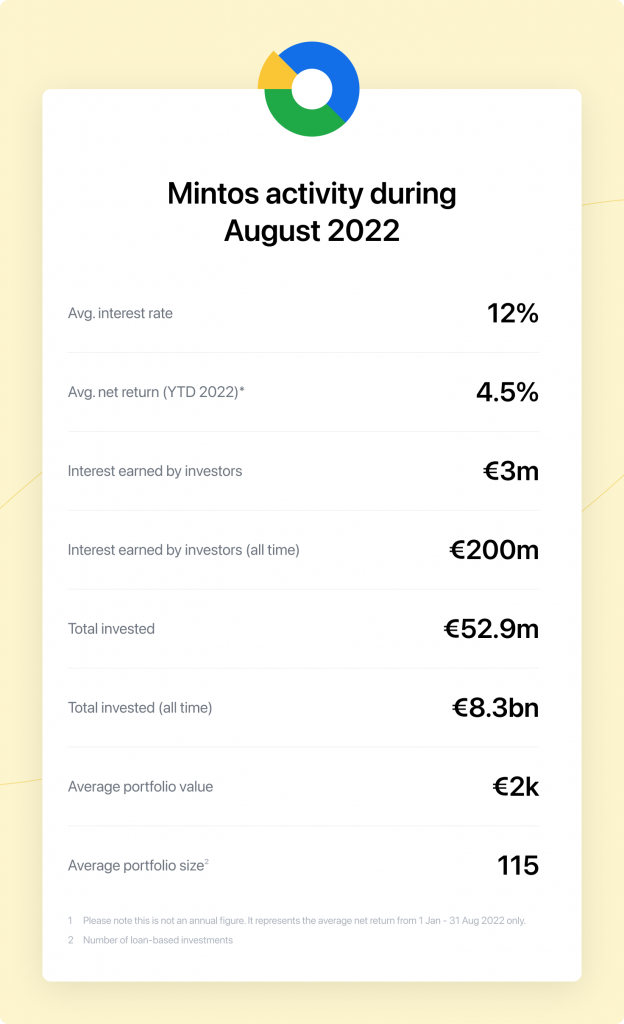 Earn a €50 bonus for you and your friends!
This is a marketing communication and in no way should be viewed as investment research, advice, or recommendation to invest. There is no guarantee to get back the invested amount. Past performance of financial instruments does not guarantee future returns. Investing in financial instruments involves risk; before investing, consider your knowledge, experience, financial situation, and investment objectives.