ExpressCredit Namibia, a Latvia-based lending company specializing in loans for government and private sector employees underserved by mainstream financiers, has launched a new cashback campaign.
You can now earn a 3% cashback on investments in all ExpressCredit Namibia loans – for a limited time only!
This offer is valid from 20 April to 30 April 2022.
To qualify for the cashback bonus, you'll need to enroll in the campaign and invest a minimum of €50 (cumulative) into ExpressCredit Namibia loans.

There's over €715 000 worth of qualifying loans available on Mintos with interest rates of 9 – 15%.1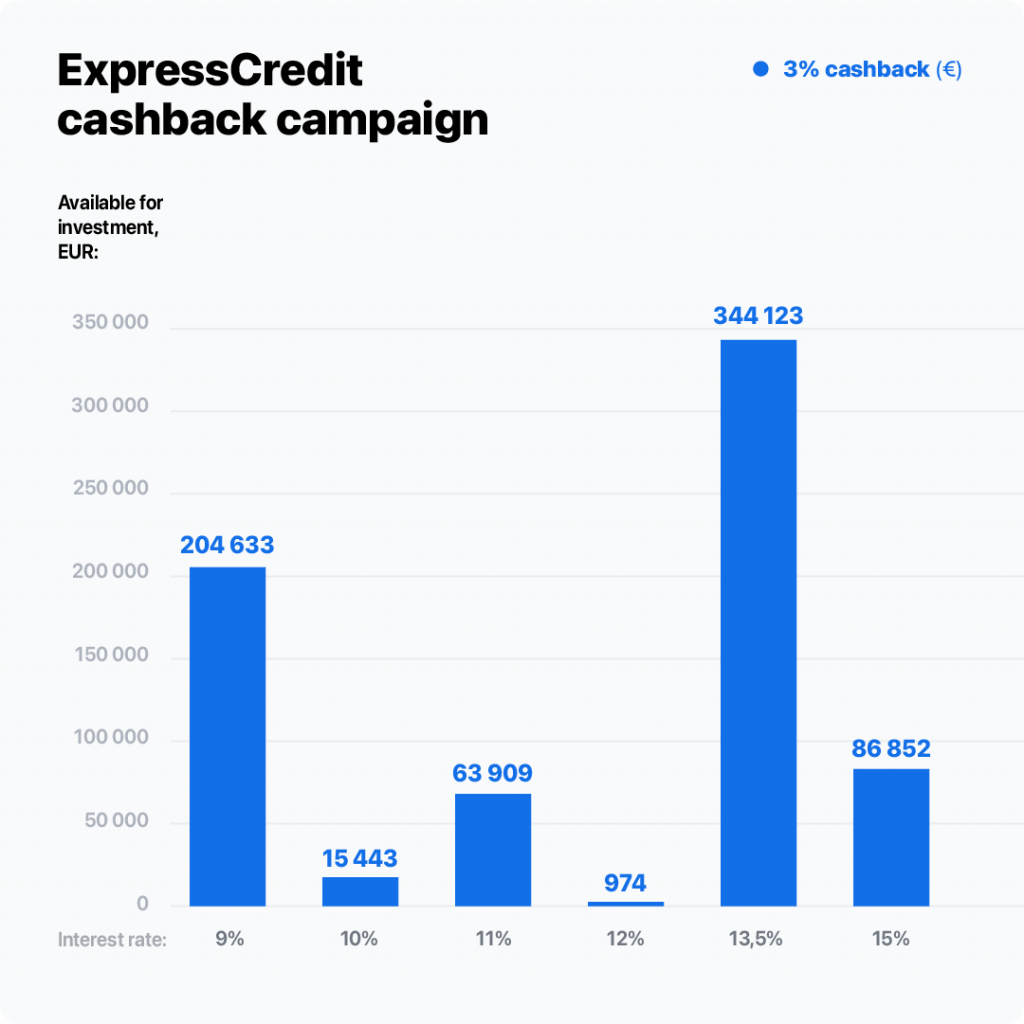 Only investments made on the Mintos Primary Market via manual investments or custom automated strategies qualify. Investments made before enrolling or made via Diversified, Conservative, or High-yield strategies are not eligible. The cashback will be credited to your Mintos account within 7 business days after making the investment. See full terms
ExpressCredit Namibia loans are listed on Mintos in EUR. The original currency in which the loans were issued is the Namibian Dollar. 
ExpressCredit Namibia during and post the Covid-19 pandemic
ExpressCredit Namibia's CEO, Eckhardt Marais, explains "as for all businesses, the Covid-19 pandemic brought uncertainties to us and challenged our ability to respond quickly to market changes. I believe we proved to be a great team at ExpressCredit and as an organization, we're now feeling stronger than ever before. It was the rapid change of strategy, quick restriction of underwriting rules, and organizational controls that allowed us to keep every single job, increase brand awareness, launch digital lending and grow sales." 
According to Eckhardt, "the financials speak for these achievements:
For the first time, the company recorded an annual net profit of €0.8 million for 2021 (financial statements audited by BDO)

It also achieved an unaudited net profit for Q1 2022 of €0.5 million

In March 2022, it reached historically high sales of over €2.3 million

In Q1 2022, it launched a pre-covid initiated branch network expansion plan to increase the number of branches from 21 to 36 before the year-end which would ensure ExpressCredit has the widest branch coverage in Namibia, and

According to

NAMFISA

statistics published in March 2022, ExpressCredit has reached 35% of the market share (by total value disbursed in 2021)."
About ExpressCredit
Founded in 2016, ExpressCredit group is a Latvia-based consumer lending company operating across several Sub-Saharan Africa markets, including Namibia, Zambia, Botswana, and Lesotho. With more than 60 branches, ExpressCredit operates a multi-channel lending platform for government and private sector employees underserved by mainstream financiers. It offers online alternative lending solutions in countries driven by offline lending options while maintaining compliance with KYC and other regulatory requirements. The group also has agreements with private companies, unions, and government institutions (deduction codes) to enable its entities to debit repayments from borrowers' salaries directly.
ExpressCredit group remains committed to its long-term growth strategy and has strengthened its corporate governance by incorporating local boards of directors in its countries of operation.
Some of the equity investors of ExpressCredit group and Mintos overlap.
---
1 As of  20 April 2022