Diversify your investments and earn a cashback of 1%!
For a limited time, we are offering you the chance to receive a bonus for investing in loans through the Mintos Diversification Strategy.
| | | | | |
| --- | --- | --- | --- | --- |
| Investment amount (€) | 2 500 | 5 000 | 15 000 | 25 000 |
| Cash reward (€) | 25 | 50 | 150 | 250 |
If you invest through the Diversification Strategy, not only will you get a well-diversified investment portfolio, you will also earn an extra cashback of 1%. This offer is available until August 12, 2018. In order to get the cashback you should use the default Auto Invest criteria for the Diversification Strategy. The cashback will be calculated for all the investments you make through the strategy during the campaign period. Your cashback will be calculated and paid on a weekly basis.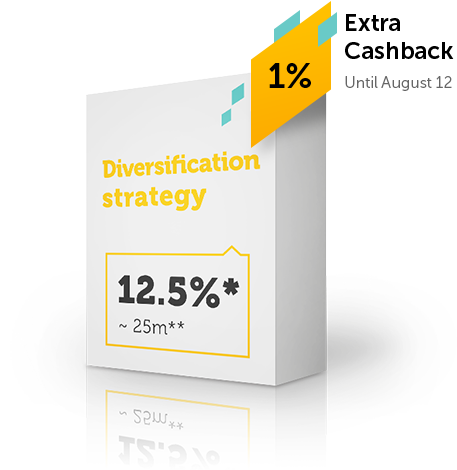 The Importance of Diversification
The majority of investment professionals agree that diversification is the most important component for reaching long-range financial goals while minimising risks. This is because diversified investment portfolios are more likely to experience less volatility and more solid returns than those with more concentrated holdings.
James,

reviewed Mintos on TrustPilot
Mintos has the greatest variety of loan types from many providers which gives me confidence that they will prosper over the long term as the industry develops. Excellent website with good auto invest options gives great diversification...
Paulo,

reviewed Mintos on TrustPilot
Great return, great diversity. The IT features they implement into their site are amazing. I love the autoinvest; I just define the settings and forget it. I've got almost 12% return pa in almost two years. My loans are diversified among several countries and originators…
Alexey,

reviewed Mintos on TrustPilot
Good for private short term high yield investments I think its the best alternative micro investment product that came around over the past few years in Europe. Micro-lending is growing all over the world and offers very granular and diversified fixed income investment option...
Mintos Diversification strategy
Our diversification strategy is perfect for investors who want to build the most diversified and effective loan portfolio across different borrowers, loan types, maturities, loan originators and countries. The Mintos Diversification strategy will provide you with:
The best balance between risk and return
Historical gross annual interest rate of 12.5%*
A weighted average loan maturity of 25 months**
Availability of all loan types listed by 41 loan originators from 21 countries.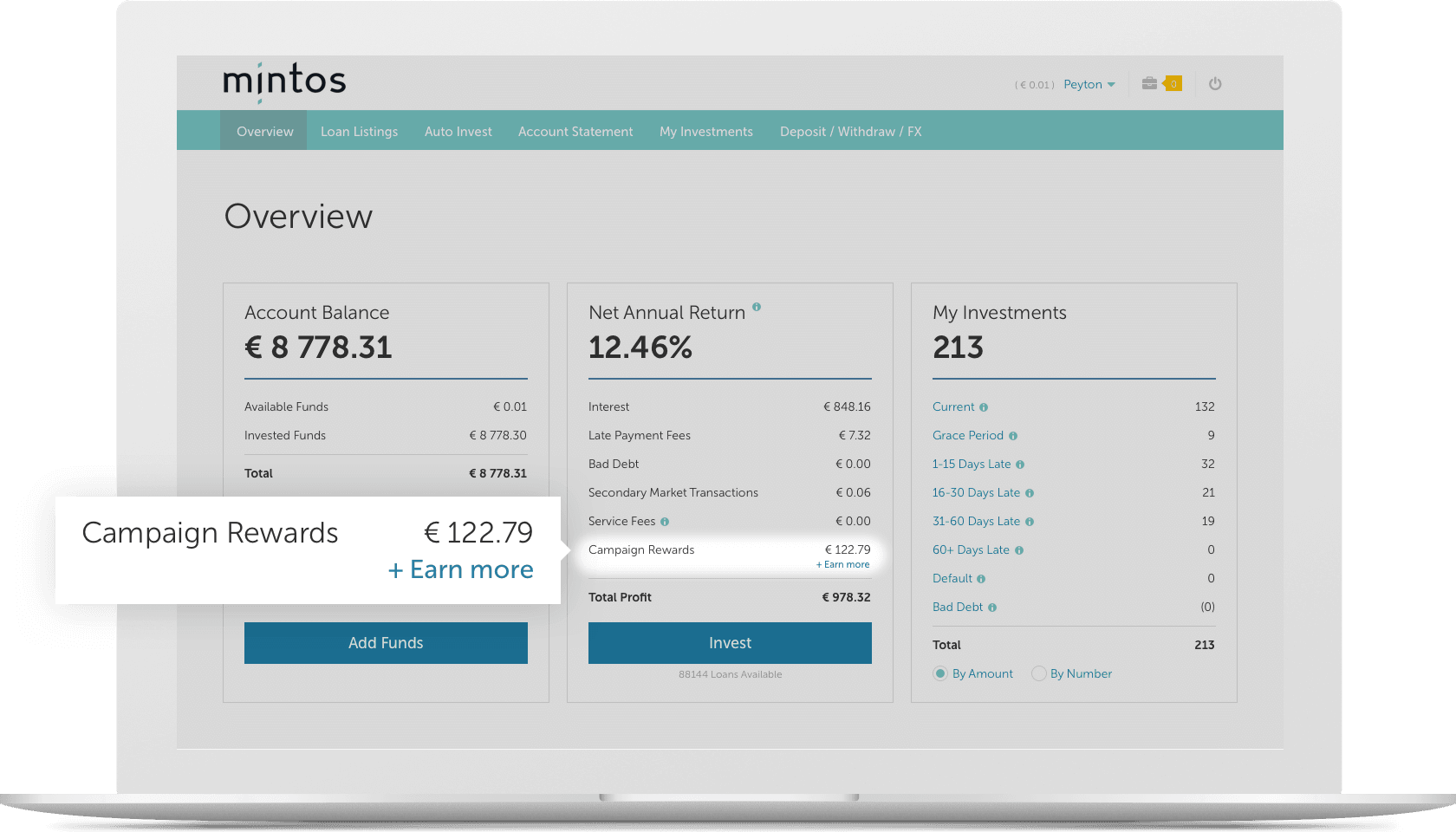 If you want to better understand the abundant diversification opportunities available to you on the marketplace, you can read our diversification series
here.
*The annual gross interest rate is interest paid to investors and it excludes estimated bad debts and fees (if any). The annual gross interest rate of each investment strategy is an indicative measure that is based on past performance and is subject to change. Your actual annual gross interest rate may be lower or higher depending on the actual loans included in the selected portfolio.
**The weighted average term is based on past data and is calculated by averaging the maturities of all applicable loans. The investment strategy will invest in loans based on their availability on the marketplace. The actual maturity of loans in any individual portfolio may vary.