The Mintos Risk Score evaluates risks of loans as investment opportunities on Mintos. It is calculated based on 4 subscores assigned to Loan Portfolio Performance, Loan Servicer Efficiency, Buyback Strength, and Cooperation Structure.
We monitor lending companies on an ongoing basis, and we update the Mintos Risk Score quarterly. Based on the results and findings, subscores are upgraded or downgraded, which can lead to an upgrade or downgrade of the Mintos Risk Score.
When there are important changes related to specific loans (material improvement or deterioration like suspension or default of the loan issuing company on the Mintos marketplace) updates to the related subscores and Mintos Risk Score are made outside of the regular schedule.
Read more about the Mintos Risk Score
---
The latest Mintos Risk Score updates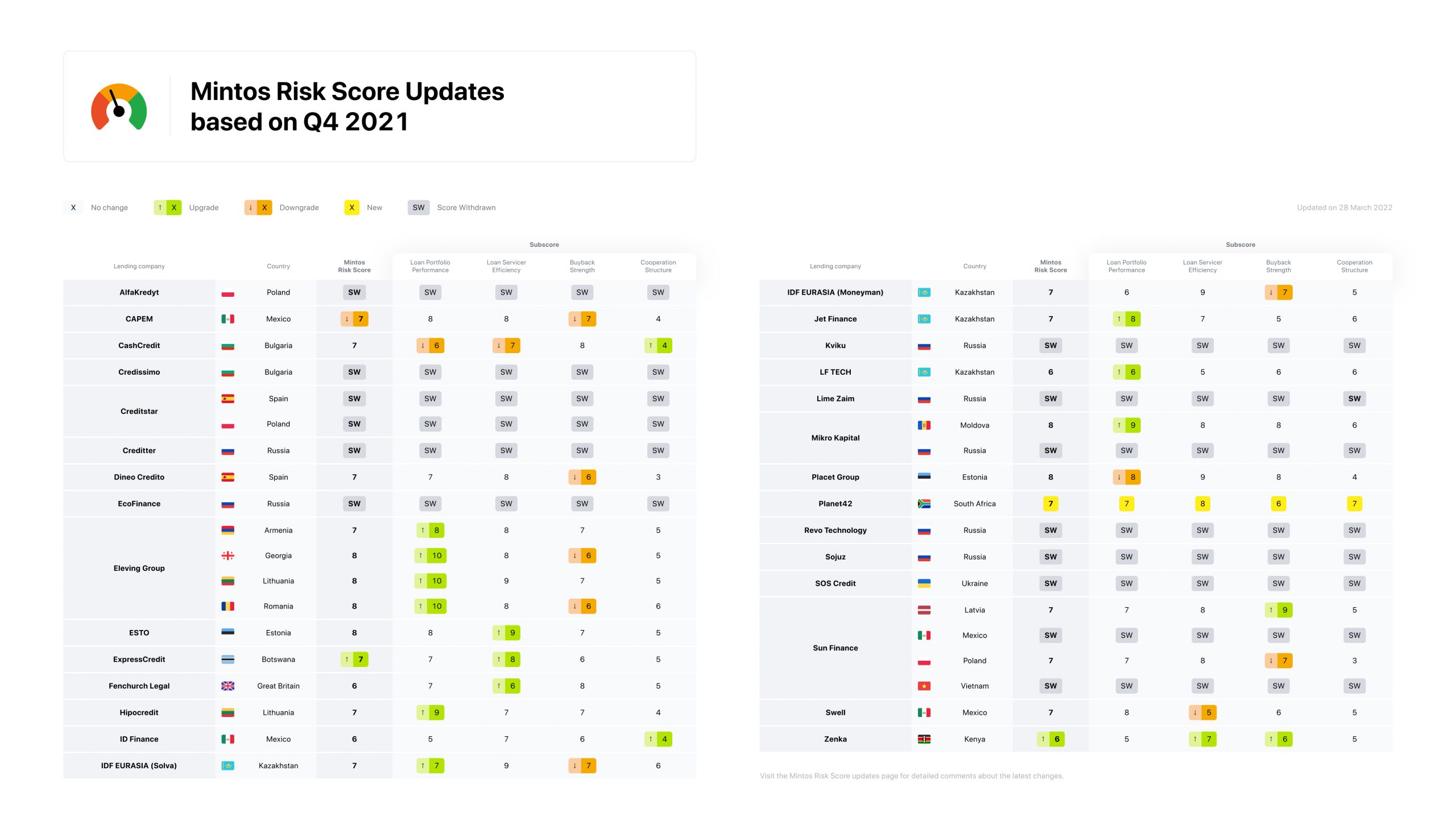 Please note that the image above represents only the current Mintos Risk Scores and subscores, with changes made during the most recent quarterly update on 28/03/2022.
---
Overview of the Mintos Risk Score quarterly updates
File with the historic changes in the Mintos Risk Score for the year 2021/2022
Disclaimer: Under no circumstances should the Mintos Risk Score be treated and relied upon as a credit rating. It is not prepared in accordance with the methodology and provisions defined by the Regulation (EC) No 1060/2009 on credit rating agencies. The Mintos Risk Score is not investment advice and Mintos cannot be held liable for any losses which may result from basing investment decisions on information and/or analytical materials provided on this website.
Companies below are listed in alphabetical order.