Welcome to a new edition of Mintos affiliate news. Our goal is to provide you with important updates, sneak previews, and other interesting information for your audience. You can use the information provided in this update as an inspiration for your own article. For example, you could share your own experience with these topics, such as buying an ETF for the first time.
Registration bonus is here to stay
Great news: The bonus for new investors who register via an affiliate link has been prolonged indefinitely!
Get ready for Mintos ETFs
We're working full steam on transforming Mintos into a platform where long-term investors can grow their money with a unique mix of traditional and alternative assets. We want to enable investors to reduce risk and potentially improve returns by spreading their investments across different asset classes, while keeping Mintos as simple and accessible as investors are used to. The first new asset class we'll be adding are ETFs, with the first beta version currently scheduled for late summer.
Why is Mintos creating ETF Strategies?
We tried to buy ETFs ourselves and also asked our investors to share their experience. And it turns out that investing in ETFs involves too many complicated steps: From researching and finding suitable ETFs for your needs, to finding the chosen ETFs in the precise currency (including the correct domicile and favorable exchange). Then you'd have to find a place where you can actually buy the ETFs. But you're not done yet, you also need to check the broker's fee structure, terms, etc. 
All of this only to buy the ETF. We haven't even talked about rebalancing, which should take place on a regular basis so that your portfolio keeps up with your investment and life goals.  
Let's say you did some research and want to invest in an ETF that tracks the MSCI world index, as you want to be globally diversified. Cool! Let's search for an ETF that could do that for you. In www.justetf.com ETF screener we can find more than 156 different ETFs for this index.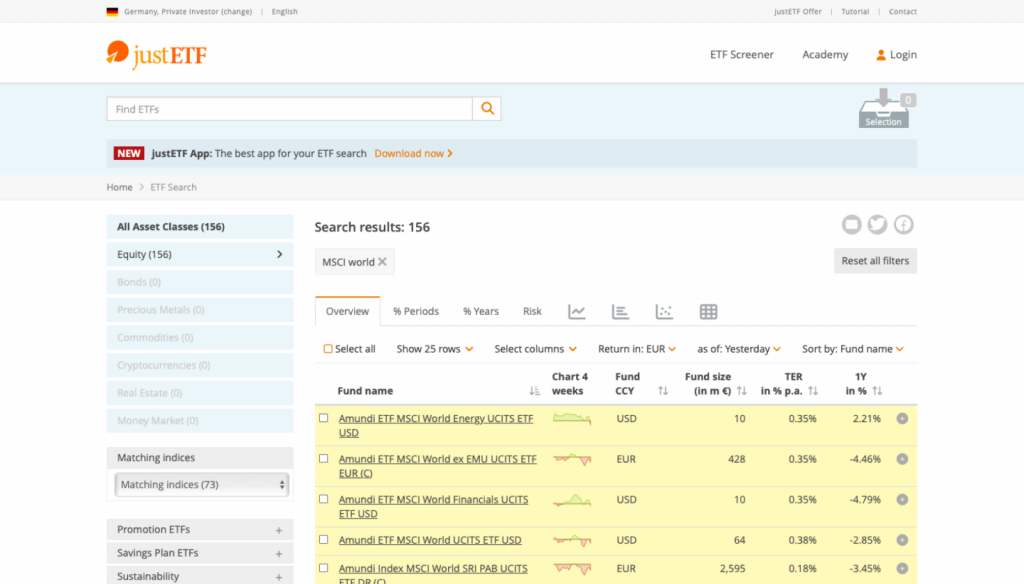 Suppose we trust Amundi as an ETF provider and we filter out only Amundi ETFs. That narrows our results to 20 different ETFs.
Still too many to make a decision. Let's invest in an ETFs that is unhedged and in EUR. We still see 9 matching ETFs. Ok, let's just choose the one with the biggest fund size – Amundi Index MSCI World SRI PAB UCITS ETF DR (C).
Now that we've decided which ETF to invest in, where can we actually buy it? Let's check.
We can search for the ETF by its ticker symbol (a letter combination that is used to identify the ETF, similar to stocks). However, we're now running into a common problem: The ETF is listed with the same ticker in two different exchanges and currencies. How do we know if we're buying the correct one? At this point, according to our research, many potential investors just give up.
You can of course invest in individual stocks, especially if you enjoy investing and you actually know what you're doing. But if you just want to create a long-term investment portfolio that is automatically taken care of for you so that you have more time for other things, Mintos ETF Strategies could be a good fit for you.
The first Beta version will be most suitable for investors who plan to invest for a longer term. We suggest a time horizon of at least 5 years. The longer your time horizon, the more time you have to ride out ups and downs in the market.
The beta version will not be suitable for investors who want to speculate with market prices or take higher risks. We don't capitalize on FOMO and thrill-seeking. We'd much rather make investing boring. At the same time, investing in ETFs is not without any risk, especially if you want to save a concrete amount of money in a few years. If your goals are more short-term, you might want to look into safer assets, for example bonds maturing when the money is required.
In our first Beta version, we plan to offer up to three ready-to-go Mintos ETF strategies. All strategies will be built with a core-satellite approach. One strategy will be screened for ESG (Environment, Socal, Governance) factors so that you can easily invest in a way that's consistent with your values and beliefs.
Placing investment orders will be really easy. You won't need to calculate how many shares you need to buy to invest exactly the amount you want. Just let us know how much you want to invest, and we'll take care of any fractions for you. And your investment can start from as little as €50.
Every time you invest, your ETF will be dynamically rebalanced. Over time, the value of your investment changes. Some of the ETFs in your strategy will grow more, others less. Dynamic rebalancing means that we will allocate more money to underweight ETFs and less to overweight ETFs, bringing your portfolio back closer to the target proportions. This approach is also tax efficient – as nothing is sold to rebalance your portfolio, there's no taxable event!
If you want to withdraw your money, you can sell your ETFs at any time without additional fees. The same dynamic rebalancing will also take place, just in the opposite direction.
We plan to improve the product in regular iterations based on the feedback we will receive from users.
We aim to launch the first Beta version for a closed group in late summer. If you'd like to be one of the early testers and help shape the product with your feedback, sign up for the waiting list.
Investor sentiment increases
Investor satisfaction and happiness is improving, as evidenced by an increase in our Trustpilot score from 2.6 in March to 3.4 at the beginning of May. Investors were particularly happy about the transparency of Mintos, the ease of use, responsive customer support, and the attractive interest rates.
Recap: Overdue page launch
As you know, we recently launched the new Overdue page to increase transparency around payments that are overdue from lending companies. In a survey with investors, feedback about the page has been largely positive: Investors found it easier to find the information they were looking for, and they appreciated that the page shows statistics for overdue amounts and recoveries related to their own portfolio.
Quotes from investors:
"I like the fact that I immediately see how much was recovered of MY portfolio, not the overall amounts of the company. Well done."
"way, way better and more transparent than before"
"Very detailed statistics, and up-to-date information."
"It´s good to see your personal recovery %"
"in my opinion, the needed info is there… the amount overdue, comparison with the recovered, estimate of recovery and timeline. I'm very satisfied"
Considering the general satisfaction with the page, we're planning to stop emailing monthly updates on recoveries to free up everyone's inboxes.
12.6% average interest rate
8.8% annualized net return (2.8% YTD)